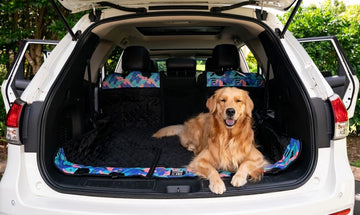 ESSENTIAL DOG ROAD TRIP TIPS
Do you know what's great about dogs? Trick question. Is it the way their eyes light up when you come home after a long day? Is it their tail-wagging anticipation as you reach for their leash, handle a ball, or offer a treat? Is it their unconditional love and loyalty as they snuggle beside you on the couch? True, you could argue that it's anyone—or all—of these things.
Every single day, our doggos are champing at the bit to leave the house for their daily walk. Whilst cats will meow mournfully throughout a five-minute car trip, dogs—eagerly anticipate walk o'clock, of course—tend to crave an outing with their human bestie.
If you're planning a road trip, why not bring your furry friend along for the ride? It will take some extra preparation—and maybe some extra training—but it does mean that more of the family can join in the fun. And, hey—it also saves the money you would have spent on doggy daycare. Here are some essential dog road trip tips that will give your dog the adventure of a lifetime.