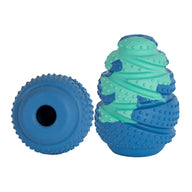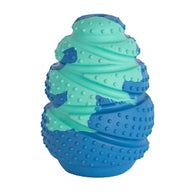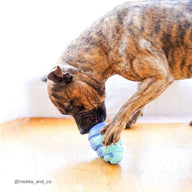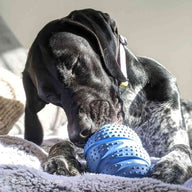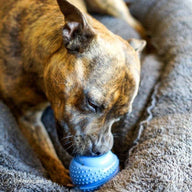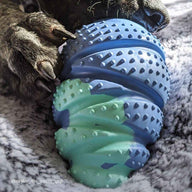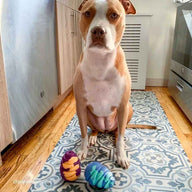 Lagoon
Hercules
Sustainable
This variant is currently sold out
Stylish Hound Enrichment - Made for play!
Hercules is just the thing for hours of healthy hound entertainment. This nifty tool can be used for enriching exercise, as a chew toy to chow down on or as a good old fashioned food bowl. Your hound's teeth and gums will be cleared and cared for whilst they enjoy endless entertainment. Hercules clever design means it's proven to last longer than other food dispenser toys. Stuff to the brim with your dog's favourite snacks and treats (pst, visit our website for a full range of tasty recipe ideas)!
Suitable for Ruff n' Tuff chewers.
• Suitable for champion chewers
• Made with food-grade, biodegradable and non-toxic rubber
• Natural vanilla scent
• Select from our 3 colour ways and 2 sizes

• 
Can hold approx 1/4 cup (SM) and 1/2 cup (ML)
Tip:

 
See our resource centre for recipes and stuff your Hercules according to the ability of your dog. No matter what level, always ensure any solid food is not bigger than the hole and can fall out; so your dog does not get frustrated, give up and/or destroy the toy to get to the food. 
"Our collection is tougher than tough, top quality and fighting fit, but that doesn't mean that it's indestructible. This may mean bits will fall off as they chew depending on how they interact with the toy. Always supervise your dog whilst playing with this toy. Inspect the toy after each play and remove it if of concern. Due to hygiene reasons, we do not offer refunds."
• Available in 2 sizes:
Small-Medium: 8.6cm x 6.1cm
Medium-Large: 10.7cm x 7.8cm
• Hole Diametre:
Top: approx 0.7cm
Bottom: approx 2cm
MATERIALS
• Made with food grade, biodegradable and non-toxic rubber
Please note: due to the way Hercules is made, each colour marking will vary slightly
CLEANING
• Hand wash with mild detergent
• Use toothbrush to clean inside / grooves if required
Shipping: We aim to dispatch within 2-4 working days from Sydney, Australia
We use Australia Post and other Local Couriers for domestic delivery (within Australia). For all international delivery we use DHL and Australia Post alongside your National Postal Service.
For more info, please click here.
Returns: Due to hygiene reasons, this item cannot be exchanged/returned. Please email hello@stylish-hound.com for assistance if you require help prior to purchasing.
To see our range of Enrichment recipes, please click here!
Hey Stylish Humans and Hounds! Our resource centre is here to set you and your furry bestie up for success and get the most out of products. You'll find a range of easy training tips, enrichment recipes and product how-to here!