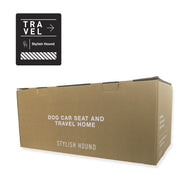 Black
Car Seat and Travel Home + Isofix Safety Belt
This product is currently sold out.
Take your furry companion anywhere in comfort and style with our brand new 2 in 1 Travel Car Seat!
We've designed this to make all outside adventures as safe, calm, and comfortable as possible for you and your hound. No more car stress for you!

A convenient, comfy Car Seat complete with an Isofix safety Belt for complete protection. Upon arrival at your destination, use it as one seriously stylish, cosy Travel Dog Bed for snuggly sleepover snoozes.

• Isofix belt to connect the seat to the car for ultimate protection;
This connects to the same Isofix as baby seats.
• Superior soft and resilience foam for comfort and safety
• All four sides can be unclipped to flatten; to create your own lounge
• Anti-slip bottom
• Clip one side down to bridge the gap between the car seat and to prevent your dog from slipping off during turns and sudden breaks
• Soft, comfortable and protected seat for your dog to travel in safety and comfort.
• Pockets on the side
• Adjustable handles
Buckle up! Put you and your dog's safety first by ensuring that your furry friend is always secure when they travel with you. Our seat belt secures firmly to your dog's harness and to your seat belt buckle to prevent them from jumping in the car, keeping them safe on all your adventures.
• Seat: 50cm (l) x 45cm (w)
• Long Flap: 50cm (l) x 42cm (h)
• Short Flap: 44cm (w) x 21cm (h)
• High Density Foam Thickness: 4cm
• Handle Shortest Length: 53cm
• Handle Longest Length: 90cm
• Pocket Size Each: 22cm (w) x 15cm (h)
• Please take note of sizing. We recommend max size is for dog of shape and size approximately Staffy / Beagle about 20-22KG.
Cavoodle: 6KG (recommend)
Staffy: 20 (recommend as seat is perfect size)
Golden: 29-30KG (not recommend as this seat is too small)
FABRIC
• Upholstery-grade soft microfibre velvet
• With High-density foam on the seat and long flaps
• With bedding filling in short side flaps
CLEANING
• Spot clean with wet wipes
• Gentle machine wash cover only
• Air dry only, Dryer is not suitable
Please note: Ensure straps and hardware are taken off (where possible) prior to wash. Attached straps and hardware are positioned on the inside of the cover protected when placed inside the washing machine.
Shipping: We aim to dispatch within 2-4 working days from Sydney, Australia
We use Australia Post for domestic delivery (within Australia) . For all international delivery we use DHL and Australia Post alongside your National Postal Service.
For more info, please click here.
Returns: Due to hygiene reasons, this item cannot be exchanged/returned. Please email hello@stylish-hound.com for assistance if you require help prior to purchasing.