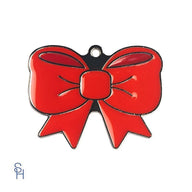 Bow Red
Charm
This product is currently sold out.
Strike a pose!

Pamper your pooch, dress to impress! Turn heads with a signature stylish strut.

Rose Red Bow Charm | Silver

• Artisan-made and individually enamelled
• All tags come with matching attachment ring
• Material: Aluminium
• 35mm x 27mm
• Betta the Puggle is wearing Red Bow Charm
Shipping: We aim to dispatch within 2-4 working days from Sydney, Australia
We use Australia Post for domestic delivery (within Australia) For all international delivery we use DHL and Australia Post alongside your National Postal Service.
For more info, please click here.
Returns:
This sale item cannot be exchanged/returned. Please choose carefully.