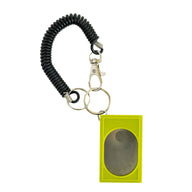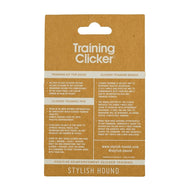 Green
Training Clicker
This product is currently sold out.
Attention to all doggo's in training!

Stylish Hound's clicker is the trick to getting your dog's behaviour into ship-shape, stat. This effortlessly effective training tool is designed to reward good behaviour with repetition that's easy to understand for your hound, big or small. The smooth and innovative design guarantees a comfortable hold for all humans, with a slip-resistant silicone clasp that caters to your hands.

So how does it work? Stylish Hound's clicker creates a memorable marker for your dog to connect certain behaviour with a positive response, reward or maybe even a cheeky treat or two. A clicker is a concise and clear form of communication for your dog to understand. It makes training a dream!

• One-handed clicker
• Elasticised silicone wristband
• Hands-free design
Product is made from 100% recycled plastic and metal
• Train in an area without distractions;
• Be consistent while clicker training your pet;
• Always reward your pet with positive reinforcement.
• Click once (in-out.) if you want to express special praise, use in conjunction with treats.
Do not increase the number of clicks
• Start by just using clicker and food. Click > reward > click > reward. Once the dog understands that the clicker = reward, then you bring in command to start training work with your dog.
• Clicker training is an easy way to reinforce positive behaviours. It is a simple and effective way to communicate with your dog and it can be incorporated into any training exercise.
• The signal emitted by the clicker replaces the verbal praise dogs learn to advocate with appropriate behaviour. It cues the dog that its behaviour will be rewarded, allowing faster, stress-free training.
• When your dogs respond appropriately to any command, immediately sound the clicker and follow with a treat reward. Repeat the exercise until your dog learns the command. You may gradually phase out treats add a new challenge.
Shipping: We aim to dispatch within 2-4 working days from Sydney, Australia
We use Australia Post for domestic delivery (within Australia) For all international delivery we use DHL and Australia Post alongside your National Postal Service.
For more info, please click here.
Returns: If you are unhappy with your purchase, it can be returned for a store credit. Please note: this excludes sale items, toys / food related items with hygiene policy, unless deemed as faulty.
Please ensure that the product has not been used (tried on indoors is OK), no scuffs, no marks and in brand new resellable condition.
Please email within 10 days of receiving the product. We can always help you check your pup's sizing to avoid sizing issues and disappointment, please email hello@stylish-hound.com
For returns, please submit using Returns Portal to make this easier for you, please click here.