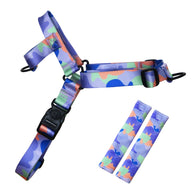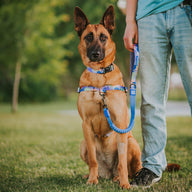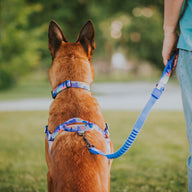 Luna OG
No-pull training harness
Sustainable
This variant is currently sold out
Our SH Original No-Pull Harness is your perfect everyday training accessory!

Walking your dog has never been so easy! Imagine walking your dog without an arm wrestling match...Now you can!

Since our first version of our Original harness was gobbled up so quickly, we've made a few new improvements on our SH Original No-Pull Harness 3.0! We have made a switch to using 100% recycled plastics in straps (certified), sturdier hardware, easy wash, and more durable materials. Dogs big and small can slip into our inclusive size range, with an exciting new Padded Buddies attachment to make every dog as comfy as they can be.

Psst! Lots of hounds take to the front attachment easily, but if you're experiencing a little trouble, don't give up! Check out our IGTV / YouTube for some easy training exercises with our dog trainer.

Complete your Stylish Hound Look with a matching Luna Leash, Luna Collar, and Luna Bowtie.

• All materials (straps, plastic buckles, metal hardware) are made from 100% recycled materials
• The front chest attachment discourages pulling with an optional back attachment
• Includes a pair of matching Padded Buddies
• Adjustable chest and belly strap
• Padded neoprene handle for when you need to get a hold of your dog quickly.
• Double-sided print design.
• Auto-lock black buckle.
• Sturdy and thick hardware.


XS
• Eevee, adult female Mini Foxy, girth 42cm, wears size XS
• Gretel, adult female Cavoodle, girth 46cm, wears size XS
• Remus, adult male Dachshund, girth 47cm, wears size XS
• Puppy size. Suitable for all puppies from 12 weeks. Train your dogs with walking skills from the get go!

S
• Finn, adult male Cocker Spaniel, girth 50cm, wears size S
• Mia, adult female Cavachon, girth 51cm, wears size S
• Enzo, adult male Cavoodle, girth 55cm, wears size S
• Sirrus, adult male Dachshund, girth 56cm, wears size S
• Charlie, adult male Cocker Spaniel, girth 59cm, wears size S

M
• Rufus, adult male Corgi, girth 58cm, wears size M
• Harley, adult male Coker Spaniel, girth 61cm, wears size M
• Bagel, adult male Beagle, girth 64cm, wears size M
• Boomer, adult female Staffy, girth 67cm, wears size M
• Yuki, adult female Australian Shepherd, girth 70cm, wears size M

L
• Mochi, adult female Samoyed, girth 73cm, wears size L
• Luna, adult female Golden Retriever, girth 74cm, wears size L
• Paddington, adult male Sharpie, girth 76cm, wears size L
• Beren, adult male Labrador, girth 80cm, wears size L

XL
• Evie, adult female Rottweiler, girth 85cm, wears size XL
• Jeyga, adult male GSD, girth 87cm, wears size XL
• Grace, adult Great Dane, girth 92cm, wears size XL
--
• The girth measurement is the main point of reference. The chest measurement is a rough guide as it can sit higher or lower on your dog's chest.
• The above chart is a guide, your dog may have a special body type (lean/wide chested) that may not fit into the size chart.
• Please measure your dog. Please check the harness fitted on your dog indoors prior to going outdoors. If the harness does not fit well, the no-pull will not work. We understand purchasing online is difficult, please note we can exchange the harness IF it's been tried on indoors and not taken out on a walk outdoors.
• Important: This is a training harness designed for short training sessions and/or short walks. This harness is to teach and train your dog good walking skills. If you would like to go on hikes, bush walks, long walks - please refer to our Explorer Chest Plate collection.
FABRIC
Main Strap: 100% Post-Consumer Recycled Polyester (Plastics)
Hardware / Trims: 100% Recycled Metal, Recycled Plastic, Recycled PVC
Certificate No: CU842484GRS-2019-00002017

CLEANING
• Soak in mild detergent approx. 20-30 min (Nappisan if required)
• Lukewarm water
• Hand wash is preferred
• Rinse
• Dry in shade
Please note: Do not soak for too long to avoid water damaging the hardware.
Shipping: We aim to dispatch within 2-4 working days from Sydney, Australia
We use Australia Post and other Local Couriers for domestic delivery (within Australia). For all international delivery we use DHL and Australia Post alongside your National Postal Service.
For more info, please click here.
Returns: If you are unhappy with your purchase, it can be returned for a store credit. Please note: this excludes sale items, toys, and food related items with hygiene policy, unless deemed as faulty.
Please ensure that the product has not been worn (tried on indoors is OK), no scuffs, no marks and in brand new resellable condition.
Please email within 10 days of receiving the product. We can always help you check your pup's sizing to avoid sizing issues and disappoinment, please email hello@stylish-hound.com
For returns, please submit using Returns Portal to make this easier for you, please click here.
We have 3 levels of No-Pull training tools to suit dogs of all shapes, size and strength.
For younger dogs, we recommend you start at level 1 to introduce your dog to front leading harness.
They may stay at level 1 and/or assess if they need to progress to level 2 and 3.
Consult with your dog trainer if required.

Hey Stylish Humans and Hounds! Our resource centre is here to set you and your furry bestie up for success and get the most out of products. You'll find a range of easy training tips, enrichment recipes and product how-to here! Please click here.