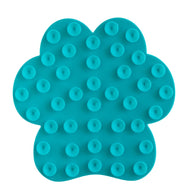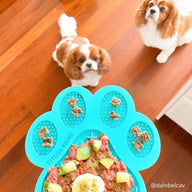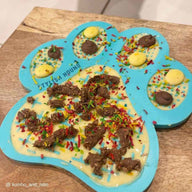 Mint
Lick Mat w Suction
Sustainable
This product is currently sold out.
Meet the Lick Mat!
A food grade silicone mat that suctions onto floor, tiles and cupboards as a stimulating indoor activity. Hounds who like to gobble their grub up in seconds will absorb their nutrients better. Timid cuties who don't necessarily love their grooming routines (think bathing, nail clipping, brushing) will be calmed. All pups will benefit from a little mental stimulation. Quick scrub and easy to clean in warm water - you'll be ready to go for tomorrow in no time!
• 2 different texture
• 100% Non toxic; Food grade; Human grade silicone
• Suction back
• Dishwasher and Microwave safe; lower temperature and on-short cycles
Please note: Slowly and carefully 'peel' the suction caps one by one to avoid damaging and/or ripping the suction. Fun should always be had alongside human supervision to keep pups safe. Keep the product out of your hound's reach after playtime has ended.
• 17.5cm x 17.5cm (at widest)
MATERIALS
• Made with 100% non-toxic; food grade; human grade silicone
• Food Safe & Non-Toxic Certification (raw materials): CANEC1908410901
CLEANING
• Hand wash with mild detergent
• Use toothbrush to clean inside / grooves if required
• Dishwasher and Microwave safe; lower temperature and on-short cycles
Shipping: We aim to dispatch within 2-4 working days from Sydney, Australia
We use Australia Post for domestic delivery (within Australia). For all international delivery we use DHL and Australia Post alongside your National Postal Service.
For more info, please click here.
Returns: Due to hygiene reasons, this item cannot be exchanged/returned. Please email hello@stylish-hound.com for assistance if you require help prior to purchasing.
Hey Stylish Humans and Hounds! Our resource centre is here to set you and your furry bestie up for success and get the most out of products. You'll find a range of easy training tips, enrichment recipes and product how-to here! Please click here.