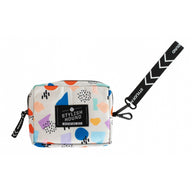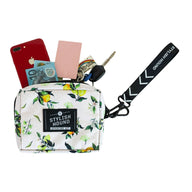 Wristlet Strap
This product is currently sold out.
Our wristlet strap is convenient for busy days when you just need a small bag but don't want the hassle of having to hold it all day. The strap can attach to any bag or pouch with a D-Ring or loop. You can also use the Wristlet Strap to attach a bag or pouch to a Stylish Hound leash and other accessories for easy storage access.

Please note: Wristlet Strap only. Express pouch not included

Strap length: 17.3 cm
Total length including hardware : 23 cm
MATERIALS:
• Polyester fabric
• Metal clasp

CLEANING
• Spot clean is preferred
• Soak in mild detergent 20-30min (Nappisan if required)
• Lukewarm water
• Hand wash is preferred
• Rinse
• Dry in shade
Please note: Do not soak for too long to avoid water damaging the hardware
Shipping: We aim to dispatch within 2-4 working days from Sydney, Australia
We use Australia Post for domestic delivery (within Australia). For all international delivery we use DHL and Australia Post alongside your National Postal Service.
For more info, please click here.
Returns:
This sale item cannot be exchanged/returned. Please choose carefully.