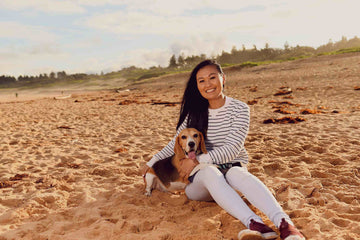 FOUNDER'S LETTER
Stylish Hounds and Humans, well hello and welcome to Hound Code!
Can you feel my positive vibbbbeeee and excitement?!
This space is made for you, by you and about you. We took all the things you asked for (in emails and DMs) and brought them here! We think the answers will benefit fellow Stylish Hounds and their humans, so we've created this space especially for you to share.
During the inception of Hound Code, I've had the space and time to reflect back on the progression, growth and purpose of Stylish Hound. I was reminded of why I created Stylish Hound - to help other owners and their dogs who had similar issues that I had with my beagle, Bagel. Still to date, reading your reviews and success is what pushes me to keep on creating! So after two of the most exciting years of my life running Stylish Hound, I'm thrilled to embark on the Hound Code for our community once again!
I realised we're not just here to give you the most stylish, functional and affordable dog gear you can get your hands – and paws – on. I also want to give you tips, advice and ideas on making your dog the happiest, healthiest, most well-mannered dog they can be.
 ...and so Hound Code was born!
 I know being a pawrent is so exciting - full of training challenges and unknown hurdles to overcome. Yet, I believe that you want to be the best pawrent you can be - your dog relies on you and only you.
 I know there's a lot of dog advice out there, but I pawmise our ideas are simple and easy to help you and your dog get the most out of our products. You'll be hearing from professional dog trainers, vets, dog rescue groups and other animal professionals in this space.
Together with our experts, we will be bringing you a range of topics - training, enrichment, behaviour, play time, grooming, dog breeds & personalities, rescue groups, interviews with professional dog trainers and vets - that is just the beginning! It's a wonderfully giddy feeling to be able to bring you a collaborative space of all things dog and human! 
Hound Code is a place you can turn to when you're feeling like it's all a bit too hard. Whether you're facing the teething problems of a new puppy (literally – those sharp puppy teeth, amirite?), the ruff journey that is adolescence or life with a sensitive senior, we're here to listen and lend a paw. This space will be jam packed with training tips like step-by-step guides on how to teach your dog to walk nicely on a lead. We'll also share techniques to encourage your dog to feel calm and regulate their emotions so your walks can be more peaceful. We'll share fun games to play on rainy days and ways to keep your dog busy while you sit in on those endless Zoom meetings. We've even got recipes for those enrichment toys to keep those tongues busy and tails wagging!
Hound Code will also bring you behind-the-scenes peeks at our process as well as the latest news from Team SH. We are here because of YOU, our community, so we want you to know what's happening! We will also introduce you to the charities that we work with because we are passionate about ALL animals having the chance to live a happy and fulfilled life. This includes Beagle Freedom Australia, whose mission is to find forever homes for dogs, cats and other animals after they are used in laboratory testing; and Greyhound Rescue, whose volunteers rehabilitate and find loving homes for greyhounds no longer wanted by the racing industry. Bagel at Stylish Hound HQ is as loved and spoiled as he can be, and I believe that every hound deserves this opportunity.
I hope this is a space ignites joy for you and your Stylish Hound. It certainly does for us! I hope more than anything to bring you all the happiness in your time together with your furry bestie. Thanks for coming on this new adventure with us.
Big love from me (Karen), Edward, Bagel and the Stylish Hound Team xx