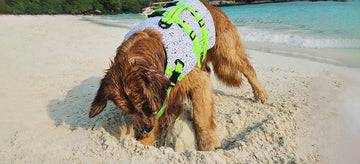 HOW TO STOP DOGS FROM DIGGING
You're not alone if your dog happens to be a digger. Many dog owners have returned home only to find their puppy's head deep in a hole, bum in the air and dirt spraying behind them. The earlier you address digging habits, the better, or it worsens over time.
Simply pulling them away from the hole won't do the trick. Neither is bribing them with treats (which might reinforce the wrong idea). This guide provides the best ways to stop dogs from digging and turning your backyard into a mess. Some tips may work better than others depending on your dog, so ensure you experiment to learn what works best for them.