Horizon
Halter + Safety Clip
Sustainable
This variant is currently sold out
School is in session! Stylish Hound's gentle training halter makes refining your student doggy simple, seamless and manageable for humans and hounds. Now, this awesome accessory helps you to train your hound, but it also comes with a required amount of time and patience, so only committed teachers should add to the cart. This halter is for serial pullers and cheeky dogs who need a little more attention.
Stylish Hound's halter requires positive introduction and desensitization to ensure that your hound has become used to its head collar before putting it into practice. Warning, please do not place on your hound before proper introductions and a little light use. Note, this is not a muzzle.
• Neoprene padded nose bridge
• Silky smooth side thread
• Under chin cord stopper
• Lead ring
• Includes safety clip to connect Halter to the collar
• Dyed using certified eco-friendly non-toxic process.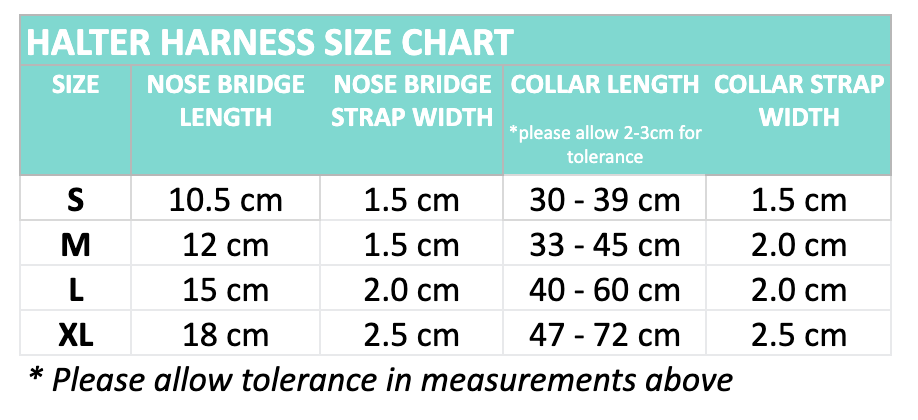 M
• Rev, adult male Border Collie, wears size M
• Harley, adult male Australian Shepherd, wears size M
• Yuki, adult female Australian Shepherd, wears size M
• Wubba, adult female Samoyed, wears size M

L
• Harpo, adult Rottweiler, wears size L
• Mochi, adult female Samoyed, wears size L
• Max, adult male Golden Retriever, wears size L
• Ruby, adult female Golden Retrieve, wears size L

XL
• Archer, adult male GSD, wears size XL
• Daisy, adult female Great Dane, wears size XL
• Frankie and Floyd, adult Mastiffs, wears size XL
FABRIC
100% Post-Consumer Recycled Polyester (Plastics)
Certificate No: CU842484GRS-2019-00002017

CLEANING
• Soak in mild detergent approx. 20-30min (Nappisan if required)
• Lukewarm water
• Hand wash is preferred
• Rinse
• Dry in shade
Please note: Do not soak for too long to avoid water damaging the hardware
Shipping: We aim to dispatch within 2-4 working days from Sydney, Australia
We use Australia Post and other Local Couriers for domestic delivery (within Australia). For all international delivery we use DHL and Australia Post alongside your National Postal Service.
For more info, please click here.
Returns: Please keep your hound's mouth and chin spiffy clean and dry before trying on to ensure that any returned Halters are in tip-top to meet the required return condition.
If you are unhappy with your purchase, it can be returned for a store credit. Please note: this excludes sale items, toys / food related items with hygiene policy, unless deemed as faulty.
Please ensure that the product has not been worn (tried on indoors is OK), no scuffs, no marks and in brand new resellable condition.
Please email within 10 days of receiving the product. We can always help you check your pup's sizing to avoid sizing issues and disappointment, please email hello@stylish-hound.com
For returns, please submit using Returns Portal to make this easier for you, please click here.
We have 3 levels of No-Pull training tools to suit dogs of all shapes, size and strength.
For younger dogs, we recommend you start at level 1 to introduce your dog to front leading harness.
They may stay at level 1 and/or assess if they need to progress to level 2 and 3.
Consult with your dog trainer if required.

Hey Stylish Humans and Hounds! Our resource centre is here to set you and your furry bestie up for success and get the most out of products. You'll find a range of easy training tips, enrichment recipes and product how-to here! Please click here.