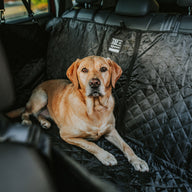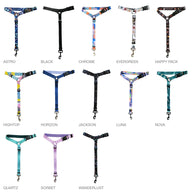 Black
Back Seat Cover w Travel Bag
Sustainable
This product is currently sold out.
Keep your car sets pristine and protected with our stylish travel car cover!

Yep, that's right, we've thought of everything to make your fluffy adventures as cosy, comfortable, and convenient as possible. Strap your travel car cover in for countless clean, organised, and, most importantly, fun trips with your very best friend. This universal fit will protect your car from any sneaky scratches, naughty rips, or just general muck, wear and tear. Grab your stylish, durable car seat cover for waterproof protection that's as easy as it is eye-catching. This is seriously simple to install, lovely and lightweight, and always adjustable to fit all hounds and most vehicles.

• Car seat cover + Travel bag
• Waterproof and stain-resistant Oxford canvas with padding and lining
• Adjustable back seat strap and headrest straps
• Back seat anchor beans for easy installation and positioning the cover in place
• Easy seat belt access with velcro openings
• Optional side door protectors zipped for extra protection
(or folded under if not required)
• Anti-slip bottom
• Lightly padded for additional comfort
• Easily foldable
• 3 velcro pockets to hold your additional travel essentials
• Middle seat zipper
• Mesh middle front with zippers
CAR SEAT COVER
Main: approx. 140 x 148cm
Side: approx. 49 x 47cm
Pocket RHS: approx. 48 x 32cm
Pocket LHS: approx. 20 x 32cm, 30 x 32cm
TRAVEL BAG
With handle and zipper
34cm (w) x 25cm (l) x 10cm (h)

OUR UNIVERSAL COVER FITS IN THE BELOW CARS & SIMILAR
Note: If you don't see your car model or similar here, please refer to the diagram below to measure the space in your car before purchasing.

Small Hatch
• Mazda 2
• Hyundai i30 and i30N
• Holden Barina
• Toyota Yaris
• Toyota Corolla Hatch
• Mini Clubman
• Volkswagen Golf
• Subaru Imprezza
• Suzuki Vitara

Sedan
• Audi A3
• Volkswagen Passat
• Mercedes AMG A35

Small 4WD
• Audi Q2
• Toyota C-HR
• Mazda CX3
• Mini Countryman
• Subaru XV

Medium 4WD
• Lexuz NX Sport
• Honda CRV
• Toyota Rav 4
• Mitsubishi Triton
• Kia Sportage
• Mazda CX5
• Nissan X-Trail
• BMW X5
• Volkswagen Tiguan
• Hyundai Santa FE Sport
• Hyundai Tucson
• Subaru Outback

Large 4WD
• Ford Ranger
• Mitsubishi Pajero Sport
• Isuzu Dmax
• Mazda CX9
• Nissan Pathfinder
• Nissan Patrol GU
• Volswagen Amarok
• Range Rover

FABRIC
• 100% post-consumer recycled polyester
Certificate No: CU1025753GRS-2022-00172169
• Oxford canvas with light padding
• Fully Lined
• Mesh window with zipper opening
• Anti-slip backing
• 3 velcro pockets

CLEANING
• Spot clean with wet wipes
• Gentle machine wash
• Air dry only. Dryer is not suitable
Please note: Ensure straps and hardware are taken off (where possible) prior to wash. Attached straps and hardware are positioned on the inside of the cover protected when placed inside the washing machine.
Shipping: We aim to dispatch within 2-4 working days from Sydney, Australia
We use Australia Post and other Local Couriers for domestic delivery (within Australia). For all international delivery we use DHL and Australia Post alongside your National Postal Service.
For more info, please click here.
Returns: Due to hygiene reasons, this item cannot be exchanged/returned. Please email hello@stylish-hound.com for assistance if you require help prior to purchasing.